What is a hot oil treatment?
Typically done once a week or once every two weeks, a hot oil treatment for hair is a treatment where you place hot oil throughout your hair. You can use a variety of different oils for this such as avocado oil, coconut oil, olive oil, almond oil, jojoba oil, or even our Hair Growth Oil .
But what are the benefits of doing a hot oil treatment?
Benefits Of Hot Oil Treatments
There are many benefits of hot oil treatment that can be great for all different hair types. Some of the main hot oil treatment benefits are:
Moisturises hair that is dry and brittle

Helps with dry scalp and dandruff

Can help increase the blood circulation in your scalp

Strengthens hair

Adds shine to hair

Helps prevent split ends and frizz
1. Moisturise Brittle and Dry Hair
Thick, curly hair is prone to dryness, and no one wants brittle and dry hair in any season! So, anything we can do to our hair to moisturise it is a plus. It's best to do a hot oil hair treatment every week or every two weeks, depending on your preference. Hot oil treatments will help deposit oil back into your hair and prevent the dryness that can contribute to breakage. Adding a DIY hot oil treatment to your weekly routine can also help repair damaged hair.
2. Helps With Dry Scalp and Dandruff
Many naturals struggle with dry scalp and dandruff. Doing a hot oil treatment before you shampoo your hair can help prevent dandruff. Kiya's Hair Growth Oil is infused with peppermint oil, which is perfect for helping dry scalp and dandruff. Peppermint oil also has anti-inflammatory and antiseptic properties. It helps to soothe itchy scalp and keep dandruff at bay. Peppermint oil also helps to absorb excess oils on the scalp and promote hair growth.Each hair strand will become stronger and shinier after each hair treatment.
3. Increase Blood Circulation to Your Scalp
There is nothing like a good scalp massage, and with hot oil treatments, you are going the extra mile to help stimulate blood flow to your scalp. Massaging the oil into your scalp after applying it to your clean hair helps to invigorate growth and help increase blood circulation.
4. Strengthens and Adds Shine To Your Hair
After practicing hot oil treatments over time, you will begin to see the changes in your hair. Your hair will look and feel healthier, and you will notice more shine in your tresses.
5. Prevent Split Ends and Frizz
Do you feel like your hair is not growing? Hot oil treatments can help prevent frizz without weighing your hair down. They also help to seal the ends of your hair, which in turn prevents split ends.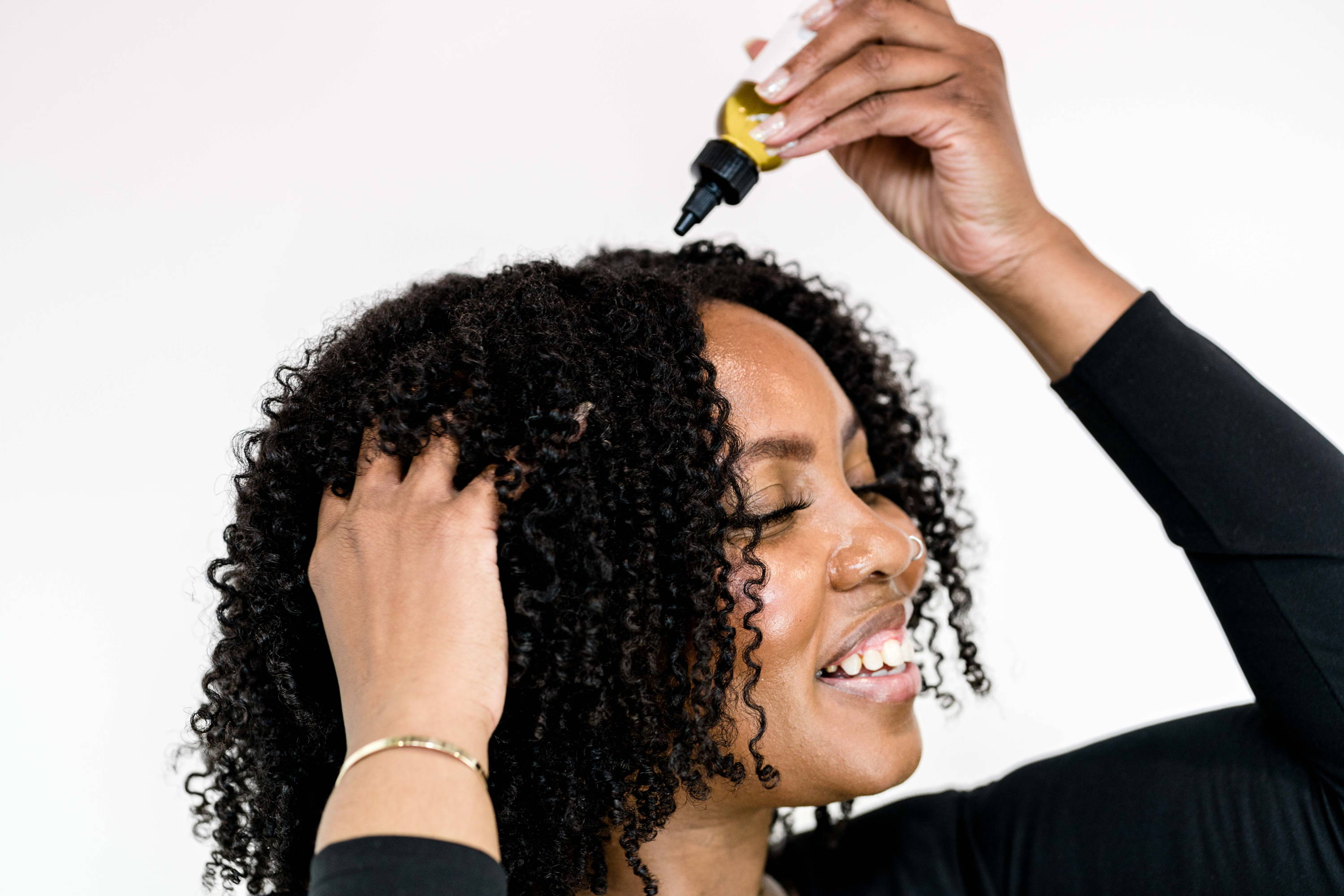 How to Apply Hot Oil Treatments
The next thing you are probably wondering is how to apply your hot oil treatment, and also how often you should do them. It is a personal preference on how often to practice hot oil treatments, but many naturals do them weekly, especially in the winter months. We recommend protecting your clothes with towels or plastic so that you don't damage your clothes.
You will need to heat your oil before applying it to your hair and scalp. To do this, you can place your oil in an applicator bottle or in a bowl that is safe for heating. Then, put your oil in hot water if you are using an applicator bottle or the microwave for around 10 seconds if you are using a bowl.
Make sure to let the oil cool off before applying it to your hair and scalp to prevent burning yourself. Once it's a safe temperature, apply it, place a shower cap over your head for about 15 to 20 minutes, and rinse. You can also sit under a hooded dryer or steamer. Heat or steam will allow your hair cuticles to open up and help the oil penetrate your hair shaft, which helps with moisture. After rinsing, apply your leave-in conditioner.
When to Apply Your Hot Oil Treatment
One question that always comes up: should hot oil treatment be done on wet or dry hair? It is best to apply your hot oil treatment after you have washed your hair. You don't want to apply it to dirty hair because your hair will not benefit as much. You want the oil to fully penetrate your scalp and clean hair, and if your hair is dirty, the oil will just sit on top of your hair.
(This is the main thing that differentiates a Hot Oil Treatment from a Pre-Poo, which is to add an extra barrier to your hair before shampooing!)
Applying your hot oil treatment right after you shampoo and before your deep condition is the best time to apply. Our Simply Nourishing Black Soap Shampoo is great for use before your hot oil treatment. It will gently cleanse your hair to prepare for your hot oil treatment. Some naturals also apply the hot oil treatment after deep conditioning, instead of before. You can use this method if you feel that your hair is really dry and you need maximum moisture.
After learning some benefits of hot treatment oil, will you opt for a hot oil treatment on your next wash day? Tell us about your experience with these treatments and Kiya's Hair Growth Oil in the comments below!